Trainmaster – paradise for your mini train fans!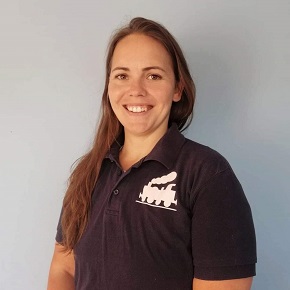 Welcome! My name is Chloe Cotton and I'm the founder of Trainmaster. After having 3 boys in 3 years, returning to work as an English teacher wasn't a financially viable option and I didn't want to miss the milestones of their development! My eldest son Jasper was obsessed with trains but his toddler brother Henry used to take pride in destroying his hard build tracks. I made a joke to my husband that we should hire a hall to enable us to build a larger track and not invite Henry; following this conversation and lots of thought, Trainmaster was born.
It wasn't long before people were asking me to venture further afield and set up track nearer them, and that made me realise that this could be an opportunity for other parents like me who wanted to earn money without paying extortionate childcare costs, but at the same time would still be able to spend time with their children. Shortly after realising this, an additional 'Trainmaster Station' was opened in Yorkshire, coving both Yorkshire and Leeds, closely followed by Kent, Surrey, Oxfordshire, Buckinghamshire, Berkshire, Wiltshire, Tyne and Wear, Gloucestershire and Sussex.
At Trainmaster we are passionate about all-things-trains and have multiple 'stations' across the country for your children to jump on board and play.
We fill our rooms with a giant hands-on train track, electric trains, a ride on train, crafts and fancy dress; check out the gallery in our locations pages to get a flavour of what we do.
We are also available for private hire to run birthday parties, corporate events or even visit you at home and school!
There are regular events held at our locations; find out where and when by selecting your location from the menu above. You can also book your tickets here.
For all other enquiries, use our contact information below and we will get back to you as soon as possible.