Trainmaster public events: procedures to remain Covid-secure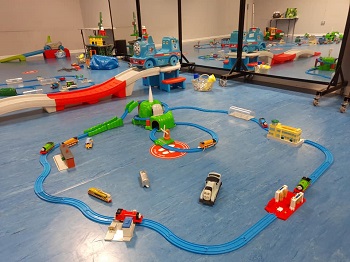 We have adapted the way we play following new guidance from the government. This has meant since March 2020 we have at times been unable to run, unable to host parties or operating with limited capacity and stricter cleaning.
With the "freedom day" update in July 2021 we have adapted once more and below outlines how we will be running.
Please note that as a nationwide business we may at times make decisions based upon the local situation and so it may vary upon location.
Please be aware of the following changes to your usual Trainmaster event experience:
Some locations will be offering the tuck shop selling drinks and snacks.
All attending adult and children over the age of 11 will now have the choice to wear a face-mask for the duration of the event.
Train track layouts will not be moving back to one giant track across the room but in some locations we will still have the smaller, isolated layouts in zones around the room.
The Trainmaster air-tents, fancy-dress, crafts and reading books (for applicable locations) will be coming back to some locations.
All adults and attendees will be expected to sanitise their hands on entry to a Trainmaster event.
All Trainmaster equipment will be disinfected after each session.
The maximum number of guests (child attendees) is reduced to the capacity limit of each particular venue to allow for adult accompaniment.
Adult accompaniment is limited to 1 adult per child (per ticket purchased). Should 2 adults wish to attend, 2 child tickets would need to be purchased. Lots of the venues are still only allowing a reduced capacity and we don't want events to feel overcrowded.

– Please note that 1 adult may accompany multiple children. A minimum of 1 adult is required.

Private parties are once again able to run! To book in yours please send us an email.
We will continue to monitor government guidance and will update these changes when applicable.