Trainmaster public events: procedures to remain Covid-secure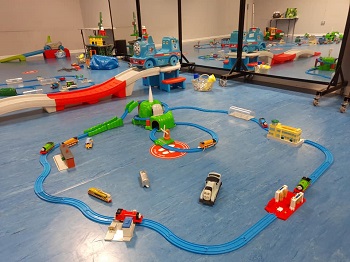 To enable Trainmaster public events to remain open, we have had to make several changes to the way the events are run to ensure we are Covid-secure and that all attendees are safe at our events.
These changes will apply to all Trainmaster locations once events are permitted. Events will hopefully resume very shortly!
Please be aware of the following changes to your usual Trainmaster event experience:
Refreshments such as tea/coffee & biscuits will not be served in all locations. Some locations may still offer this.
All attending adults and children over the age of 11 will be expected to wear a face-mask for the duration of the event, excluding only those who are exempt.
Train track layouts will not be in one giant track across the room. There will now be smaller, isolated layouts in zones around the room.
The Trainmaster air-tents, fancy-dress, crafts and reading books (for applicable locations) will not be in use until significant relaxation of restrictions.
All adults and attendees will be expected to sanitise their hands on entry to a Trainmaster event.
All Trainmaster equipment will be disinfected after each session.
The maximum number of guests (child attendees) is reduced to the capacity limit of each particular venue to allow for adult accompaniment.
Adult accompaniment is limited to 1 adult per child (per ticket purchased). Should 2 adults wish to attend, 2 child tickets would need to be purchased.

– Please note that 1 adult may accompany multiple children. A minimum of 1 adult is required.

Private parties are currently unable to be booked. We will be taking party bookings again as soon as possible!
We will continue to monitor government guidance and will update these changes when applicable.